11 June – 8 September 2019 (Reminder)
Image Credit: Radio via Europeana.eu
REFUGEE RADIO: CASTAWAY HERITAGE
"This display reveals the stories of refugees who have sought asylum in Brighton from around the world. Photographs and oral histories reveal a common humanity and the search for home."
Find out more here
6 June – 8 September 2019 (Reminder)
Image Credit: Faith Ringgold Exhibition Guide via the Serpentine Gallery
FAITH RINGGOLD (SERPENTINE GALLERY, LONDON)
"As an artist, activist and children's author Faith Ringgold (b. 1930, Harlem, New York) has challenged perceptions of African American identity and gender inequality for over five decades. Growing up in the creative and intellectual context of the Harlem Renaissance and inspired by her contemporaries including writers James Baldwin and Amiri Baraka she is widely recognised for her painted story quilts combining personal narratives, history and politics 'to tell my story, or, more to the point, my side of the story', as an African American woman. This survey exhibition, Ringgold's first in a European institution, is chronological and includes paintings, political posters and story quilts."
Find out more here
Download the exhibition guide here
Watch the BBC TV Imagine Programme here
12 June – 15 September 2019 (Reminder)
GET UP STAND UP NOW, GENERATIONS OF BLACK CREATIVE PIONEERS (SOMERSET HOUSE, LONDON)
Image Credit: Get Up Stand UP Now exhibition rooms by Thushari Perera
"A major new exhibition celebrating the past 50 years of Black creativity in Britain and beyond. Beginning with the radical Black filmmaker Horace Ové and his dynamic circle of Windrush generation creative peers and extending to today's brilliant young Black talent globally,a group of around 100 interdisciplinaryartists will showcase work together for the first time, exploring Black experience and influence, from the post-war era to the present day.
Find out more here
25 June – 20 July 2019
CHASING RAINBOWS (HOXTON HALL, LONDON)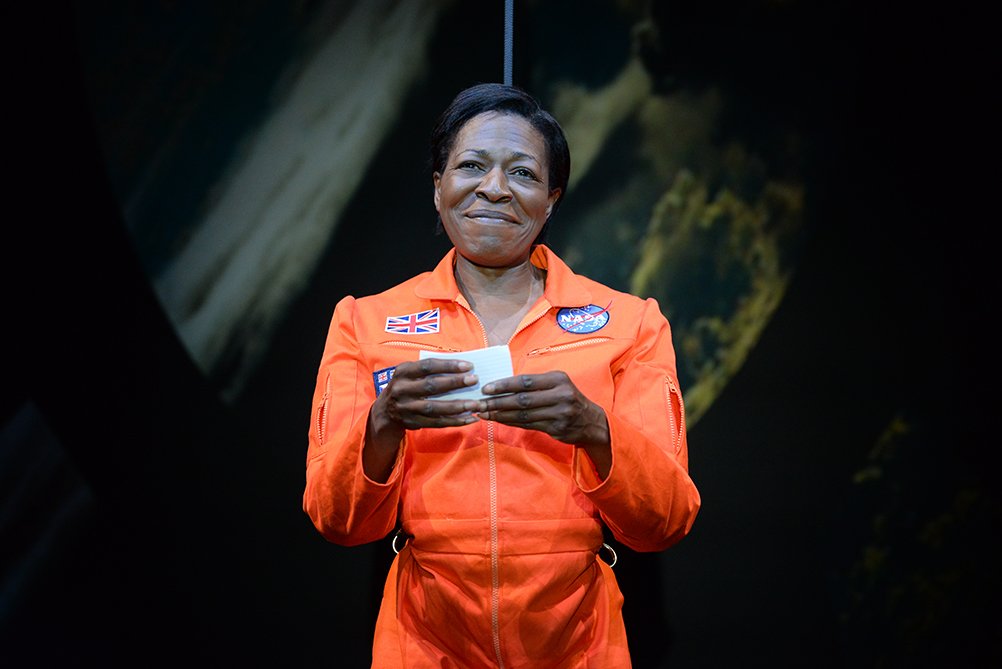 Image Credit: Chasing Rainbow Play via Twitter @HoxtonHall
"Chasing Rainbows skilfully unveils the story of Ama, driven, accomplished, she's set to be the first Caribbean woman in space. This striking aerial performance lyrically captures a universal story about the tensions of contemporary motherhood. Ama is ambitious, resisting conformity determined to make something of her life. However, instead of being considered an inspiration to other little girls with big dreams, Ama is condemned as a ruthless career woman who abandoned her child in order to pursue her career goals. As she orbits the Earth, she prepares an address for her daughter's graduation ceremony. Whilst doing so, she considers the loss that taints her success and the cost of "chasing rainbows". Inspired by Trinidadian born aerospace engineer, Dr Camille Alleyne, Chasing Rainbows looks at the challenges of balancing a career with motherhood."
Find out more here
18 July 2019
DECOLONISING THE CAMERA: PHOTOGRAPHY IN RACIAL TIME (THE PHOTOGRAPHERS' GALLERY BOOKSHOP, LONDON)
Image Credit: Mark Sealy via Lawrence & Wishart
"Join us at the Photographers' Gallery Bookshop to celebrate the launch of Mark Sealy's new book Decolonising the Camera: Photography in Racial Time. This book examines how western photographic practice has been used as a tool for creating Eurocentric and violent visual regimes, and demands that we recognise and disrupt the ingrained racist ideologies that have tainted photography since its inception in 1839. 'A must-read for anyone interested in the intersection of race, identity, and photography.'"
Find out more here
31 July – 25 August 2019
ADITI MITTAL: MOTHER OF INVENTION (EDINBURGH FRINGE)
Image Credit: Edinburgh 2019 via  Soho Theatre
"Motherhood: the most celebrated and exploited condition of human existence. Joining an illustrious line of shows by straight white men about their daddy issues, this is a show by a straight brown woman about her mummy issues. The star of Netflix's Comedians of the World and her own hour-long special, Aditi returns to the Edinburgh Festival Fringe after a critically acclaimed 2017 debut."
Find out more here
31 July 2019
WE ARE PARABLE PRESENT: VENUS AND SERENA + Q&A (RICH MIX, LONDON)
Image Credit: Tennis via Pixabay
"Ever since Venus and Serena Williams started playing in tennis tournaments, they've provoked strong reactions – from awe and admiration to suspicion and resentment. They've been winning championships for over a decade, pushing the limits of longevity in such a demanding sport. How long can they last? In this documentary, we gain unprecedented access into their lives during the most intimidating year of their career. Over the course of 2011, Venus grappled with an energy-sapping autoimmune disease while Serena battled back from a life-threatening pulmonary embolism. Neither Venus nor Serena let their adversities hold them back. They drew their greatest strength from each other. AN ENGAGING, WARTS-AND-ALL LOOK AT THE WILLIAMS SISTERS. VARIETY The screening will be followed by a Q&A with some special guests who will attempt to explain some of the psychology behind two of the greatest athletes tennis has ever seen."
Find out more here
31 July 2019
AYANNA WITTER-JOHNSON (ROUNDHOUSE, LONDON)
Image Credit: Truthfully Still Album Cover by Ayanna Witter-Johnson
"Ayanna Witter-Johnson is a singer, songwriter, cellist and composer and rare exception to the rule that classical and alternative R&B music cannot successfully coexist. She graduated with a first from both Trinity Laban Conservatoire Of Music and Dance and the Manhattan School of Music and has toured with Anoushka Shankar and Courtney Pine, recorded with Akala and composed for the London Symphony Orchestra. Since releasing her Eps Truthfully and Black Panther Ayanna has extensively toured the UK and several countries in Europe, whilst gaining a MOBO award nomination and getting Airplay on BBCRadio1 & BBC1Xtra."
Find out more here
1st August 2019
TRUTHS REFUSE TO DIE: EXCAVATING BURIED STORIES IN THE TIME OF THE RAJ (THE NATIONAL ARCHIVES, LONDON)
Image Credit: Sophia Paperpack Book Cover by Anita Anand via Bloomsbury
"The lives of Sophia Duleep Singh and Udam Singh could not be more different – one a princess and suffragette, the other an assassin – yet both their stories illuminate defining moments in recent British and Indian history. In Anita Anand's work, investigative journalism meets archival research to examine the relationship between Britain and India in the early twentieth century. Join Anand to explore the way in which archives bear witness to history and can give voice to hidden stories."
Find out more here
Related Black Europe Resources Books link here
22 June – 18 August 2019
NOT JUST A REFUGEE (CONWAY HALL, LONDON)
Image Credit: Adiam Yemane Not Just a Refugee Exhibition Poster via Conway Hall
By Conway Hall & the Ubele Initiative. A photographic exhibition by Adiam Yemane.
"This exhibition shares the stories of people, who after ten years or more of arriving in the UK are making positive contributions to communities across London and in wider society as social activists, change agents and community leaders. They are role models to all who encounter them and their work. The photographs and stories seek to interrupt our thinking about refugees and asylum seekers – to challenge our stereotypes and widely held assumptions that they are an inevitable cost or even burden to society. We know that their contributions are often overlooked, discounted or downplayed. Adiam Yemane is a published photographer based in East London."
Find out more here
The listings included here are provided only for information, not necessarily endorsement. Please let Black Europe Resources know if any links are broken. If you have received this information by email, it is for the exclusive use of the intended recipient(s). If you wish to recommend this blogpost, please use the relevant web address that you will find at the bottom of each post, thank you. Further details can be found in the T&C and Privacy Policy.
SUPPORT BLACK EUROPE RESOURCES' WORK 
If you wish to make a donation or become a sponsor, please see the Donors & Sponsors section of the website: https://blackeuroperesources.com/donors-sponsors/ . Your support will help Black Europe Resources survive and inform public discussion through newsletters, commentary and promotions of books, publications and events, thank you.
* * *
BLACK EUROPE RESOURCES
Sign Up To Receive Blogposts Directly To Your Inbox By Entering Your Email / Follow Black Europe Resources on Twitter @Blackeresources /  Advertise with Black Europe Resources / View Events / Access Issues of The Black & Asian Heritage Mix' Newsletter / Donors & Sponsors / T&C & Privacy Policy